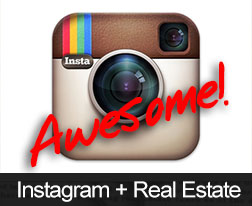 Instagram for Real Estate
Everyone preaches the importance of having a Social Media presence, especially in business. Most people talk about Facebook, because even everyone's grandparents are on it to stay in touch with their families. However, using Instagram for real estate is essential for staying in front of the biggest group of people buying and selling homes: young, adult professionals.
Reasons for You To Jump on board with Instagram for Your Real Estate Business
Facebook's Algorithm: There's no real way to predict this, especially since it seems to change daily, however since Facebook's acquisition of Instagram in 2012 you can only guess that Facebook only wants to promote beautiful photos on their platform as well. Since you can directly share your beautiful listings and other photos directly to Facebook (personal or business page), you can bet that they will get more engagement and stay on the top of the newsfeed longer. More exposure for you, the better!

People want to see what's going on behind the scenes: Even people out of the industry find real estate interesting, just look how many reality shows are on television about it! So display a little of what goes on while you prep for an open house, show as you bring client's around a new neighborhood, capture the excitement of your client's taking the keys to their new home into their hands for the first time.

Instagram's Photo Maps: An easy way to visually display that you are the local expert is showing your viewers, and potential clients, where you have frequented on a map. Y

ou have the option to share photos to your photo map before posting. This uses the geotag feature and puts a thumbnail of your photo onto a Google map so that you can see where it was taken. So, show off the listings you've sold, the events you've participated in, the restaurants you eat at, people will trust your candor.

Personal Web Profiles: Until 2013, Instagram was exclusively mobile. Now, though, Instagram will give you a personal web profile that has a proper URL and allows you to exhibit your photos, along with a profile bio and agent photo. Be sure to display your primary website URL, as well, with their badges to funnel traffic to where they can use your tools.

Short Video Tours of Properties: In today's society, our attention span is that of a fly. If you aren't showing me something to really get my attention, we move on….quickly. Five minute videos and full panoramic photos aren't going to catch the attention of someone not already interested. Well, Instagram allows you to record 15 second videos by just pressing and holding the record button. Try taking just a few seconds of each room or uploading a previously recorded video. The point is to get them interested in your business and prompt them to reach out.
Text FARMER to 95577 to Get More Social Media Tips
Hyper-Farmer Web is here for your online needs. Visit the website for more information.